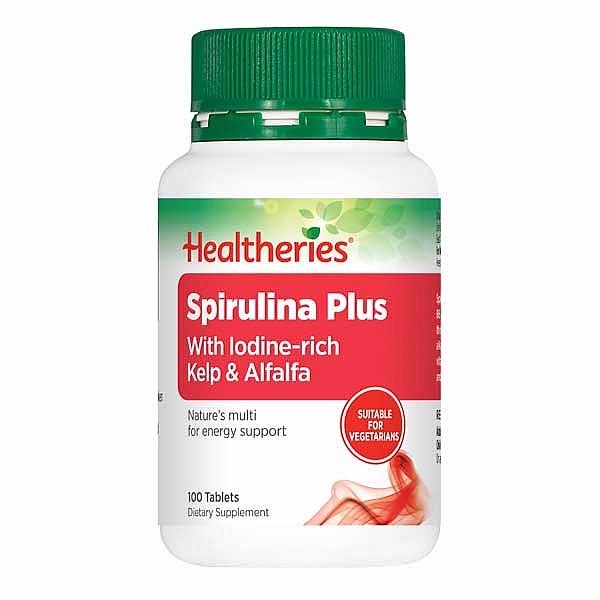 Healtheries Spirulina Plus 新西蘭螺旋藻丸
Model: 10007
中國 , 香港 , 澳門 , 台灣
貨品描述
產地: New Zealand
300mg x 100粒
天然,多重效用,增強體力,幫助消化
縲螺旋藻包含多種全面維他命,可幫助人體各樣需要,
特性: 容易消化, 穩定血糖, 低脂肪, 天然減肥食物, 運動食品, 無毒素
適合人士: 孕婦 (補充鐵、蛋白質、產前產後補養)、素食者 (蛋白質及營養素不足)、兒童、發育期青少年、關注心臟及肝功能健康人士、纖維攝取量不足之人士、運動員
可用於: 節食修身、消化功能弱、飲食不定時、經常胃痛、少吃蔬菜水果、抵抗力差、酸性體質、清除毒素、排便不順
每粒成份:
Each Tablet Contains:

Spirulina 300mg
Kelp 100mg (providing Iodine 100mcg)
Alfalfa 100mg
General Composition of Spirulina
Vitamins (per 100g)
Protein 65%
Vitamin A (from Beta carotene) 283,333 IU
Fat 8%
Vitamin A (from other Carotenoids) 191,659 IU
Carbohydrate15%
Vitamin E 38.5 IU
Minerals10%
Nucleic Acids
Riboflavin B2 4.6mg
RNA 3.5%
Niacin B3 13.0mg
DNA 1.0%
Pyridoxine B6 700.0mcg
Essential Amino Acids
Cyanocobalamin B12 200.0mcg
Histidine1.6%
Folic Acid 50.0mcg
Isoleucine 5.9%
Biotin 5.0mcg
Leucine 9.6%
Pantothenic Acid B 51.1mg
Lysine 4.9%
Inositol 90.0mg
Methionine 2.7%
Bioflavonoids (Rutin) 80.0mg
Phenylalanine 4.9%
Minerals (per 100g)
Threonine 5.7%
Calcium 1,400mg
Tryptophan 2.0%
Phosphorus 910mg
Valine 7.1%
Potassium 1,540mg
Non-Essential Amino Acids
Sodium 450mg
Alanine 7.1%
Iron 180mg
Arginine 6.4%
Magnesium 290mg
Aspartic Acid 9.2%
Zinc 3.9mg
Cystine 1.0%
Copper 800mcg
Glutamic Acid 13.4%
Chromium 240mcg
Glycine 4.9%
Selenium 550mcg
Proline 3.8%
Manganese 5.6mg
Serine 4.9%
Pigments (per 100g)
Tyrosine 4.9%
Phycocyanin 15,000mg
Chlorophyll 1,000mg
Carotenoids 370mg
Essential Fatty Acids (per 100g)
Linoleic Acid 1,378mg
Gamma Linolenic Acid 1,197mg

Spirulina
Spirulina is a complete, vegetarian-friendly source of all the essential amino acids, and contains 65% protein.
An excellent source of organic Iron, Spirulina is ten times as rich in this mineral as spinach.
Because it's high in Iron and B-vitamins, Spirulina may help if you're fatigued or feeling run down.
The natural phenylalanine (an essential amino acid) in Spirulina can help to reduce your appetite, so it's ideal if you're watching your weight.
Like other blue-green algae, Spirulina helps to naturally detoxify and cleanse your body. Plus, it contains antioxidant carotenoids – natural plant pigments that can help to protect your body from free radical damage.
Some research has also shown that Spirulina may help to balance the way your body processes fat and cholesterol.
Healtheries spirulina quality
Healtheries spirulina grows in purpose built ponds in direct sunlight in an ISO certified facility
The growing process uses natural nutrients, and no chemical additives. The spirulina is not irradiated; and is GE, herbicide and pesticide free.
Each batch of spirulina is extensively tested for moulds, yeasts, bacteria, and heavy metals; and then checked to make sure its nutrient levels are up to required standards.
Kelp
Kelp is a seaweed that provides an excellent natural source of Iodine, which helps to maintain thyroid gland health.
It is also rich in Potassium, Sodium, Calcium, Magnesium, Phosphorus, Iron and Copper.
Kelp contains compounds called "alginates", which can absorb large amounts of water. This makes Kelp useful as a bulking laxative to help prevent constipation.
Alfalfa
Alfalfa is a nourishing herb that can help to "build you back up" if you are recovering from illness or feeling generally run down
It is an alkalising herb, which means it helps to make your body less acidic. It also helps to cleanse your skin.
Finally, Alfalfa is rich in minerals that nourish your skin, hair and nails.