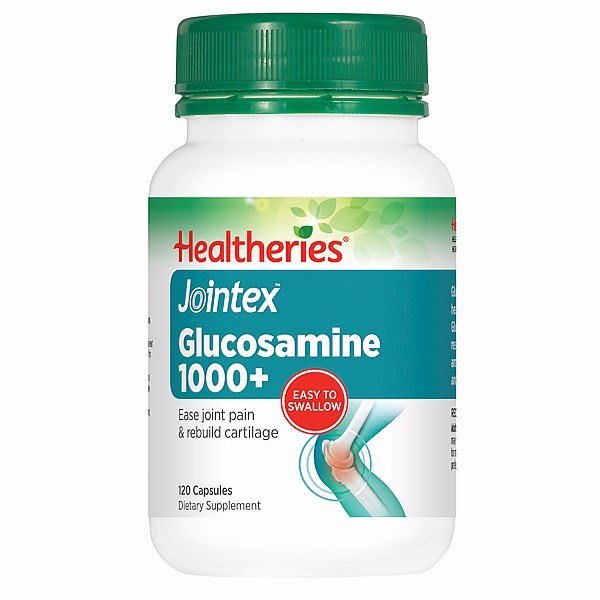 Healtheries Jointex Glucosamine 1000+ 新西蘭葡萄糖胺 1000mg
Model: 10006
中國 , 香港 , 澳門 , 台灣
貨品描述
產地: New Zealand
1000mg x 120粒
舒緩關節痛楚
協助重建軟骨
改良配方,加入多種元素
每粒成份:

Glucosamine Sulphate – Potassium Chloride Complex 1000 mg
Copper (as Sulphate) 166mcg
Manganese (as Amino Acid Chelate) 500mcg
Citrus Bioflavonoids 50mg
Ascorbic Acid (Vitamin C) 50mg
Contains No:
Wheat, gluten, yeast, sugar, corn, starch, colour, flavour, preservatives, milk derivatives.
Glucosamine sulfate
Your body produces glucosamine naturally from nutrients it takes in from your diet. It uses this glucosamine as a building block to help repair damaged cartilage. However, as you get older, or if you are injured, your body produces less natural glucosamine.
Glucosamine is a source of specific protein-carbohydrate compounds that help to nourish the cartilage tissues in your joints.
Glucosamine sulfate is glucosamine that is bound to sulfur to keep it stable. Glucosamine sulfate is derived from shrimp, prawn or crab shells.
Glucosamine sulfate supplements have been scientifically shown to help relieve joint pain.
They can also help to ease joint swelling and inflammation, and may reduce joint stiffness.
Copper
Your body uses Copper to maintain healthy joints, tendons and ligaments. This mineral stimulates the process of forming collagen and elastin fibres in muscle and tendon tissues.
Copper may help to relieve some of the joint pain of osteo- or rheumatoid arthritis. This may be the reason that people with arthritis and joint pain have traditionally worn copper bracelets.
Your body also uses Copper to form bones, and help heal fractures.
Manganese
Your joints use Manganese to produce compounds that help to build healthy cartilage.
Combining Manganese with glucosamine may help to relieve some of the pain and inflammation from both osteo- and rheumatoid arthritis.
Manganese also seems to play a part in muscle co-ordination and reflexes, bone strength, and in reducing injury healing time.
Citrus bioflavonoids
Citrus bioflavonoids are strongly antioxidant compounds found in citrus fruit.
Your body uses them to strengthen blood vessels and help it repair bruised/damaged tissue.
Vitamin C
Vitamin C can help to slow cartilage breakdown, and helps your body to produce the compounds it needs to repair damaged cartilage.
Vitamin C may also help to reduce joint inflammation and pain in bursitis and rheumatoid arthritis.
Your body uses Vitamin C to maintain healthy connective tissue (tendons & ligaments), bones and blood vessels
Vitamin C may help to speed up the natural healing process for sprains, fractures and slipped disc damage.
It may also help to maintain muscle strength in older people, and help to reduce the muscle weakness that can follow exercise.
Zinc
Zinc has been shown to help reduce joint swelling and stiffness in people who have rheumatoid arthritis.
Your body uses Zinc for its natural processes of forming bones and healing bone fractures. Zinc may also help improve muscle strength.
People who are low in Zinc may notice white specks on their nails, and may also get night muscle cramps.