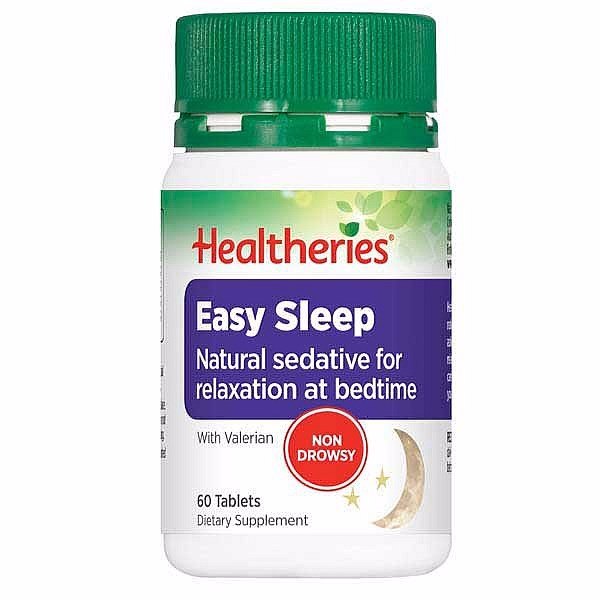 Healtheries Easy Sleep 新西蘭安睡丸
Model: 10005
中國 , 香港 , 澳門 , 台灣
貨品描述
產地: New Zealand
60粒
天然鎮靜劑,協助晚間放鬆
每粒成份:
Each Tablet Provides:
Valerian Root (Standardised) (Valerenic acid 0.32mg) 240mg
Passion Flower (fruit and flower) (Passiflora incarnata) 100mg
Skullcap (Scutellaria lateriflora) 60mg
Hops Strobile (Humulus lupulus) 150mg Tabletting Aids

No Added: gluten, animal products, dairy products, egg, soy, artificial colours, artificial flavours, artificial sweeteners or preservatives.

Suitable for vegetarians.
Valerian (Valeriana officinalis)
A sedative herb that helps to relax you; and can reduce nervous tension, anxiety and over-excitability.
Passionflower (Passiflora incarnata)
Traditional herbalists used Passionflower to help people fall into a restful sleep.
Scullcap (Scutellaria laterifolia)
Scullcap leaves help to relieve nervous tension and strengthen your nervous system, especially if you're exhausted.
Hops (Humulus lupulus)
Hops flowers have been shown to have a marked relaxing effect, easing tension and anxiety.
Wild Lettuce (Lactuca virosa)
Wild Lettuce leaves have a natural sedative action which can be invaluable if you're experiencing insomnia, restlessness and excitability.